Vorbericht: Summer Breeze 2015
Veröffentlicht von
Hyaena
am 3. Februar 2015
Ein ruhiges Städtchen in Mittelfranken. Tausende Metalheads. Vier Bühnen, über 100 Bands und 478'386'213,62 Hektoliter Bier. Klingt gut? Ist gut.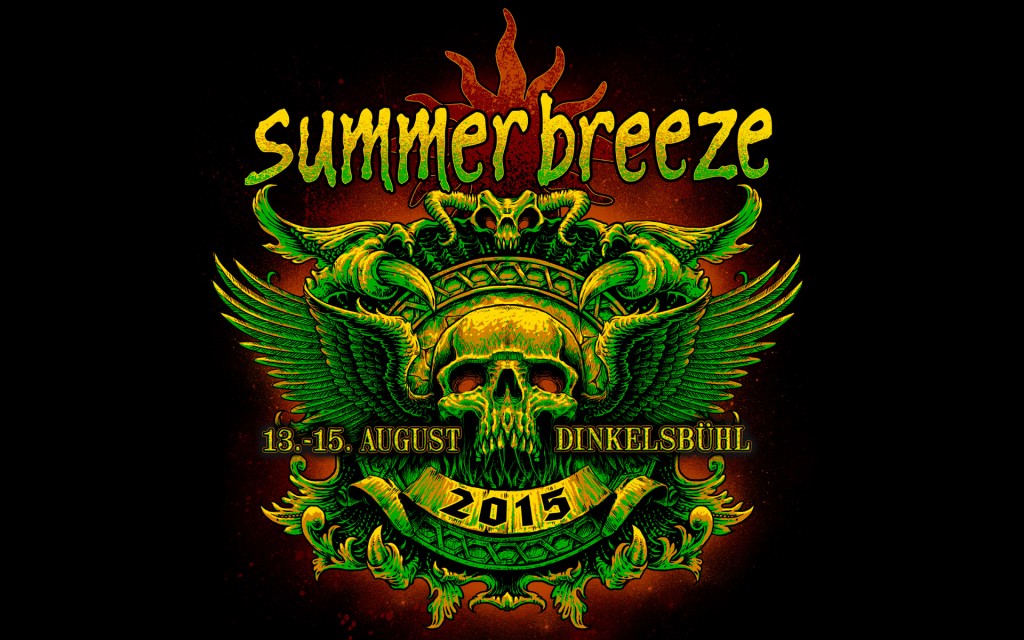 Seit 1997 lockt das Summer Breeze (fast) jährlich Metalheads aus aller Herren Länder nach Bayern, um dort eine halbe Woche durchzufeiern. Und seither schaffen es die Jungs und Mädels aus der Orga Jahr für Jahr aufs Neue, dem vergangenen Festival erneut eins draufzusetzen. So bekamen wir letztes Jahr unter anderem zum ersten Mal eine "vollwertige" Belegung der Camel Stage – und damit auch einige bekanntere Bands mehr! Was erwartet uns also im kommenden Jahr? Außer einem genialen Lineup, versteht sich…
Edit (17.04.): Da hätten wir also die Antwort; 2015 soll es zum ersten Mal möglich sein, für eine Gebühr von 10€ bereits am Dienstag anzureisen. Über diese Regelung scheiden sich die Geister, aber wir werden sehen, wie das dann vor Ort abläuft – sowohl für die, die bereits Dienstag anreisen, als auch für die, die regulär am Mittwoch kommen.
Letztes Lineup-Update: 02.07.2016
Das aktuelle Lineup sieht wie folgt aus (wird regelmäßig aktualisiert!):
Agalloch
Alestorm
Amorphis
Anthropomorphia
Any Given Day
Battle Beast
Be'lakor
Below
Belphegor
Betraying the Martyrs
Black Stone Cherry
Blasmusik Illenschwang
Bloodbath
Blutengel
Breakdown of Sanity
Cannibal Corpse
Carach Angren
Carnifex
Chapel of Disease
Combichrist
Corvus Corax
Cradle of Filth
Crown
Dark Fortress
Dark Tranquillity
Dead Lord
Death Angel
Death To All
Demonical
Deserted Fear
Destruction
Devilment
Diablo Blvd
Die Apokalyptischen Reiter
Dornenreich
Dreamshade
Drescher
Dust Bolt
Eisregen
Ektomorf
Emil Bulls
Ensiferum
Finsterforst
Fire Red Empress
Fuck You And Die
Ghost Brigade
Gloryhammer
Hackneyed
Hämatom
Hark
Hatebreed
Haudegen
Heidevolk
Hell City
Hour of Penance
Inquisition
Isole
John Coffey
Kataklysm
Kissin' Dynamite
Knorkator
Kreator
Kyle Gass Band
Lantlôs
Lifeless
Majesty
Marduk
Mastodon
Megaherz
Milking The Goatmachine
Morgoth
Nachtgeschrei
Nailed To Obscurity
Neaera
Necrotted
Ne Obliviscaris
Nervosa
Nightwish
Obey The Brave
Opeth
Ost+Front
Panzer
Paradise Lost
Powerwolf
Pripjat
Pyogenesis
Rectal Smegma
Reliquiae
Revel In Flesh
Rogash
Saltatio Mortis
Schirenc Plays Pungent Stench
Sepultura
Serum 114
Severe Torture
Sick Of It All
Sister Sin
Sodom
Sonic Syndicate
Steve'n'Seagulls
Suicidal Angels
Suicide Silence
Tankard
Temple of Baal
Terror Universal
The Duskfall
The Gogets
The Green River Burial
The Sirens
Thränenkind
Thy Art Is Murder
To The Rats And Wolves
Trivium
Troldhaugen
Trollfest
Venom
Vitja
Walls of Jericho
Leider mussten Falloch ihr Konzert am Summer Breeze 2015 absagen – Ersatz folgt!
Das Ticket kostet erschwingliche 99€ und kann hier bestellt werden. Außerdem bietet das Breeze dieses Jahr wieder die Möglichkeit zum "Green Camping", zur Reservierung von Campingflächen für größere Gruppen und zur Miete bereits aufgebauter Zelte.
Alle Neuigkeiten zum Summer Breeze findet ihr wie immer auf der Summer-Breeze-Website, die wichtigsten Infos sind in ihrem Festival-ABC zusammengetragen.
Die Running Order findet ihr ab sofort ebenfalls auf der Summer-Breeze-Seite!
Ich werde auf jeden Fall wieder vor Ort sein, denn das Lineup kann ich mir nicht entgehen lassen. Ich hoffe, ein paar von euch dort zu treffen!