ALBUM-REVIEW: Waiting in Vain – ['leila]
Waiting in Vain liefern uns ihren Debut-Longplayer! Mit E-Gitarre und sinnlichen Melodien durchkreuzen sie die landläufige Meinung, dass Elektro nur noch aus Bass besteht.
Nach ihrer Single "Dedicate to the Past" wurde Anfang Juli ihr erstes Album mit dem schönen Namen ['leila] veröffentlicht. Interessant ist, dass die drei Sachsen ihr Album vollständig ohne Label oder Produzenten auf den Markt gebracht haben. Leider ist dies auch ein Grund dafür, dass sie noch nicht gerade als bekannt gelten. Denn Flyer und lokal begrenzte Auftritte reichen leider nicht aus um im harten Geschäft mit der Musik
Ruhm zu erlangen.
Doch da setzen wir von Black-Flirt ein und somit versuche ich mit meinem Review ein wenig Wind in deren Segel zu blasen. Denn verdient wäre der Ruhm auf jeden Fall!
Ich persönlich würde ihre Musik als "Synthi Rock" bezeichnen. Sie selbst nennen ihren Stil "Rockmatic Pop". Mit WAITING IN VAIN ist eine perfekte Symbiose zwischen den technoiden Klängen von EBM, den eingängigen Melodien von Synthi-/Future-Pop und der vollen Rock-Dröhnung.
Also wer gerne eine Mischung aus APOPTYGMA BERZERK, BLUTENGEL und VNV NATION hört, sollte sich ['leia] kaufen.
Tracklist:
1. Prolusio
2. Everything awaits
3. Graf Zaroff
4. Unsound
5. Virgin land
6. One day – you left
7. The anguish
8. Dedicate to the past
9. Feeling different
10. Accuse
11. The sun's fear
12. Senselessness
Den Tonträger gibt es entweder als
Download oder als Digipack im WiV-Shop
Infos und Hörproben gibt es auf der offiziellen Homepage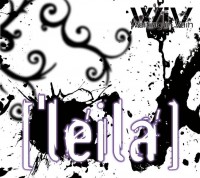 Title:
['leila]
Band:
Waiting in Vein
VÖ:
06.08.2010
Genre:
Synthpop
Herkunft:
Deutschland
Bandhomepage